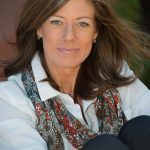 Dr. Holly Woods has been on a lifelong journey to becoming a healthy, conscious, joyful adult. Her goal is to offer this lifetime of experiential lessons to make your own challenges easier to face. Her 35 years of professional experience and advanced training also provide a more comprehensive and wholistic approach than you'll find among most healing or psychotherapeutic professions.
Holly has a rare and distinctive capacity to see nuances in every situation from an advanced level of consciousness, which will help you, your team or organization to address and resolve extremely complex challenges and find your way forward. Her talents are derived from a lifetime of unique education and training, decades of individual, organizational and project experiences, deep personal human and spiritual development work, alongside her deep intuition and insight and other intrinsic talents which will strengthen your work together.
Holly's work with clients has a foundation in the research-based and wholistic mind-body-heart-soul focused Integral Meta-Theory designed to advance human development and consciousness-based awareness. All her offerings also integrate fundamentals of the Six Keys to Unlock Your Soul Purpose Within.
However, her approach is to provide practical, customized and embodied methodologies that help you or your team integrate distinct capacities to move toward your vision for your life, career or business.
3+ Decades of Coaching & Consulting Experience
Dr. Holly Woods' 35 years of serving as a Master Coach, consultant, mediator, facilitator, teacher, trainer, scientist and navigator of personal and group journeys for deeply transformative work will support you in leaning into the challenges that you are facing, and support you in living a more potentiated life.
She has worked with thousands of individuals in personal and spiritual transformation work, and has served more than two hundred companies to create solutions to navigate significant issues, including: management and relational strategy; infrastructure, systems and policy; human and other resource assessment and strategy; education and training programs; leadership development and capacity-building; change management strategy; project development and management, and other areas of focus. Her experiences span many disciplines (private, public and NGO) and can support you or your team to come into your fullest potential.
Education & Training
Holly also brings a lifetime of education and training to the table when co-creating personal, career or business solutions for clients. She earned her PhD in Human Development and Behavior, and participated in two decades of research studying challenging human and organizational dilemmas in numerous contexts. She's also a Certified Integral Master Coach™, Professional Mediator®, a Purpose Guide™, and trained in Integral Facilitation, StAGES of Consciousness, Organizational Development, and Somatic Experiencing.
Holly has participated in numerous other trainings and learning experiences, being a "junkie" for gaining new capacity to bring to her clients. This includes study and work with Integral Theory (Ken Wilber and many others), ecological systems theory and organizational development (Otto Scharmer, Fred Laloux, Will McWhinney, Bill Plotkin, Peter Senge, Margaret Wheatley, among many others), trauma (Peter Levine, Lawrence Heller), life purpose (Gregg Levoy, Tim Kelley, Bill Plotkin, Danielle LaPorte, Martha Beck), enneagram (Russ Hudson, Helen Palmer, David Daniel, Jessica Dibb, Beatrice Chestnut), mindfulness (Pema Chodron, Mark Epstein, Sharon Salzberg, Tara Brach), meditation (too many to list), neurobiology/ psychology (Rick Hanson, Dan Siegel), relationships (John Welwood, Harville Hendricks, Gay & Katie Hendricks, Dr. Keith Witt, Carista Luminare & Lion Goodman), Diamond Approach (AH Almaas), (dreamwork (Robert Moss), embodied consciousness (Stephen Busby, Thomas Huebl), shamanism (Sandra Ingerman, don Oscar MIro Quesada, Robert Moss), subtle activism (Andrew Harvey, David Nicol, James O'Dea), chakra healing (Anodea Judith, Cyndi Dale), clairvoyance/ sentience/audience (Marguerite Rigoglioso), advanced energetic/psychic healing and management (Dr. Rick Levy, THETA healing, Tony Schwartz), conscious evolution coaching (Michael Wolff, Findhorn), beliefs (Lion Goodman, Byron Katie), human evolution and higher relating (Barbara Marx Hubbard, Patricia Albere), and imagination and creativity (Michael Gelb, Corrine McLaughlin and Gordon Davidson) to name a few.
Dr. Woods is currently a graduate faculty member at Meridian University and University of Denver, and was formerly faculty at University of Colorado, Colorado Technical University, and Colorado Mountain College.
Personal and Spiritual Development Work
Holly's early trauma and mid-life challenges both prompted her to do significant healing at an early age, and also created urgency to figure out what works (and doesn't) in resolving and healing deeply challenging issues. Her near-obsession with continued learning, healing and recovering from these early challenges created a "way of being" that allowed her to courageously (and vulnerably) confront her own shadow (the egoic wounds we cannot see in ourselves) and any habituated patterns that kept her stuck in her trauma. As most sages and saints profess, healing usually follows immense suffering. Holly considers herself the "most blessed woman on the planet" (though is willing to share the title) because of the gifts of having endured (and healed) so much early trauma and her capacity now to face life challenges with ease and grace that comes from an ever-present mindfulness and gratitude.
This lifetime of walking the path of personal development and spiritual awakening (or "growing up and waking up") led Holly to a deep compassion, love, and wisdom for all others who choose to be on the journey of reorienting their life to becoming a more developed, conscious human being who seeks to live into a larger purpose. Through these experiences, and the uncovering of her keen insight, intuition and clairvoyance, she has an acute awareness and capacity to see the complex and contextual layers of life to make it simple for you to newly create your life, career or business.
Specific Skills & Talents Related to Six Keys to Unlock Your Soul Purpose Within for unleashing your potential include the following.
Task #1: Clarify your Purpose Dr. Woods has been a Soul Purpose coach more than a decade, and is a Certified Purpose Guide™ with the Purpose Guide Institute. She studied for years under several international mentors and masters in the field. Holly has been living into her own life purpose for at least 25 years, following callings (at great risk) at various stages that helped her arrive here. She has a deep faith in the power of emergence and a basic trust that the synchronicity of the cosmos will support those who listen to the impulse. If you get a chance, ask about her middle of the night calling to Petaluma.
Task #2: Manage your Energy Holly has spent an entire lifetime working through early traumatic events which resulted in the gift of learning numerous healing modalities. In addition to longstanding and various meditation and mindfulness practices that have allowed her to master her own energetic field (both the qi flowing through the energetic channels in the body, and also her aura, surrounding the body) and support others in doing so, she gained skills in Somatic Experiencing® and EFT allowing release of stuck energy from trauma, advanced subtle and causal energetic work promoting an awareness of physiologic and energetic shifts, advanced energetic healing and management, and enhancement of intuitive and clairvoyant skills which allow for acute awareness of emotional and psychic pain bodies.
Task #3: Liberate your Ego In addition to her decades of applied research and a PhD in Human Behavior and Development, Holly is also a Certified Integral Master Coach (utilizing the Integral Meta-theory to guide customized coaching approaches and practices), has training in the innovative StAGES of consciousness, the Enneagram personality tool, Integral Facilitation, has taught graduate-level courses in applied human development fields (e.g., social/cultural anthropology, mediation/negotiation, organizational relationship), is an Intuitive/clairvoyant with deep insight into who her clients are. In addition, she has served for 35 years as a Master Coach, consultant, mediator, facilitator, teacher, trainer, scientist and navigator of personal and group journeys for deeply transformative work.
Task #4: Listen to Guidance Holly's early and continued mystical experiences led her to explore the liminal experiences between awake and dreaming states through meditation, dreamwork, intuition and clairvoyance, shamanism and other energetic work, and more recently the innovative work in collective consciousness. She uses each of these methodologies to promote the release of psychic, mental and somatic constraints that allow guidance to emerge.
Task #5: Provoke your Imagination Holly has lived her life around personal visions elicited through inner and higher guidance, but these did not manifest fully until she began to seek to cultivate her imaginative capacity to gain insight into the intuition that was emerging. She cultivated her creative mindset by inviting in higher-frequency energetic practices to replace low-frequency dimensions that then evoked more developed vision, intuition and ultimately manifestation of her visions. As well, following her prolonged healing journey, Holly has re-cultivated a playful and childlike way of being in the world that helps to maintain joy and creativity, provoking her imaginative capacity in all things.
Task #6: Integrate & Embody your Purposeful Life Holly has spent many years of her adult life attempting to be "in her body", after a difficult childhood that left her disassociated and repressing most of her trauma. These experiences propelled her into the massive undertaking of understanding human development and behavior, and to the successful reintegration of repressed parts of herself and into a fully-embodied expression of her Soul.
All services use the research-based and wholistic mind-body-heart-soul Integral Meta-Theory to advance individual, team or collective human development and consciousness-based awareness, and also integrate fundamentals of the Six Keys to Unlock Your Soul Purpose™.
Holly Woods, Ph.D.
Coaching & Consulting  415.858.4308
I'm Totally In!
I want to Activate my Purpose Now! Please send me periodic content to learn how!